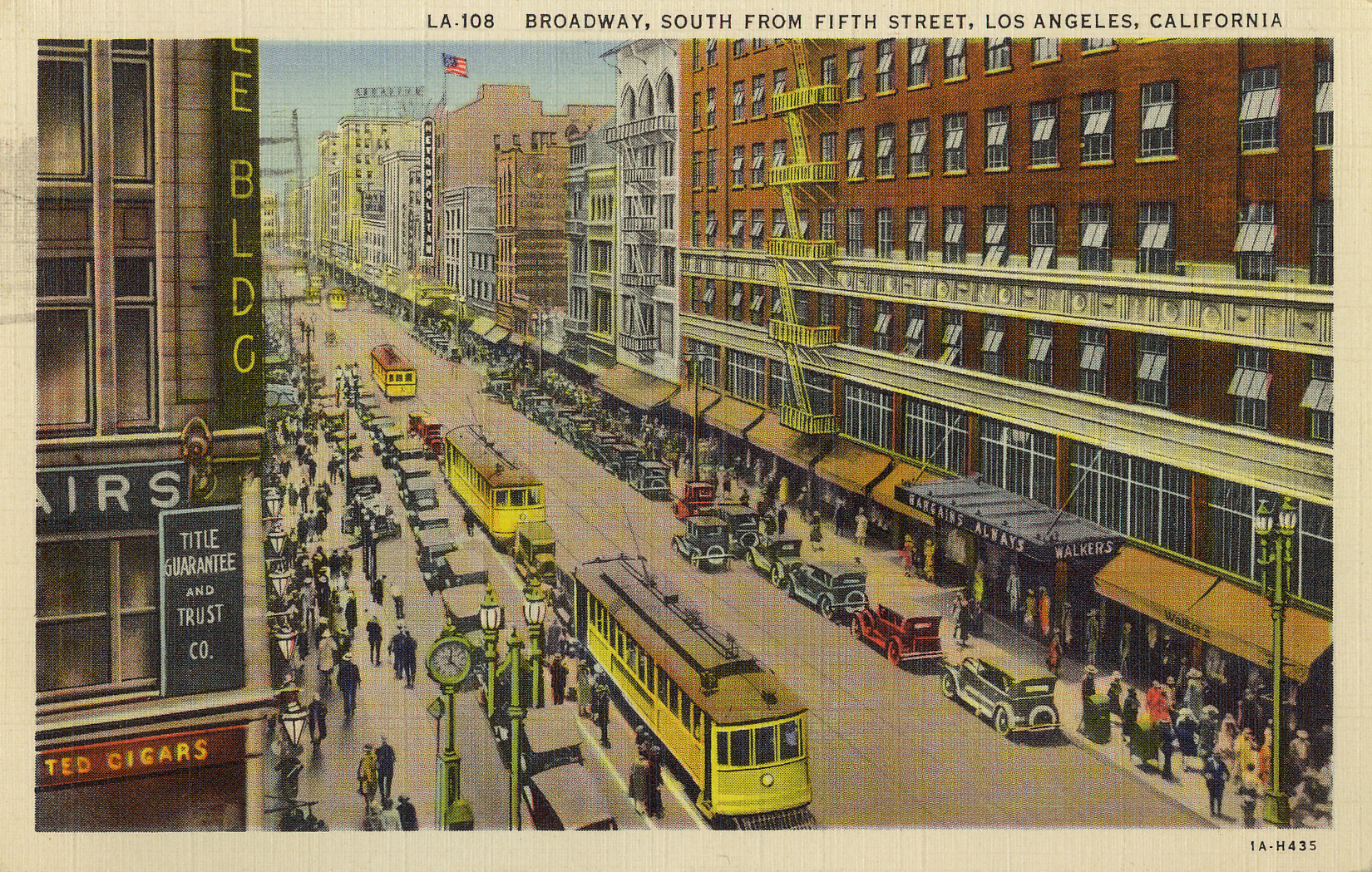 Broadway is considered one of the highest priorities in the nexus between historic preservation and revitalization because of its importance as part of our city's history. Its prominence as part of a National Register Historic District offers tremendous potential for reactivation and new uses which will allow these architectural and historical gems to be enjoyed by future generations. The Broadway Theatre District in Los Angeles features the largest concentration of historic theatres and movie palaces on one street in the nation, most of which date back to the 1920s and 1930s. Entertainment was always king on Broadway, but in the first half of the 20th century, Broadway enjoyed success as a business and retail destination and was considered the commercial capital of the nation. Broadway's elegant high-rise buildings produce an uncommonly urban character that compares to famously vibrant cities like New York.
The Broadway District boasts block after block of stunning Beaux Arts, Art Deco, and revival-style buildings which bestow the district with historic integrity uncommon in major metropolitan downtowns. Vaudeville stages were all the rage when the theatres were built and famous acts such as the Marx Brothers, Bob Hope, Houdini, Bing Crosby, Jack Benny, Will Rogers, Charlie Chaplin, Eddie Cantor, Lena Horne, George Burns & Gracie Allen, Duke Ellington, Judy Garland, and W.C. Fields all performed to the delight of Broadway audiences. Behind their deceptively simple exteriors, Broadway's ornate and spectacular theatres featured sweeping marble staircases leading to ornate balconies, plush seats, and soaring, star-sprinkled ceilings, along with spacious, elaborately crafted interiors, gilded rococo designs and a wide range of flamboyant architectural styles. When cinema became in vogue, the theatres were mostly converted to grand movie palaces, and functioned as such for many years before many of them closed their doors.
The first Broadway department store was aptly located at 3rd and Broadway, while flagship stores for Bullocks, the May Company, and the Fifth Street Store, among others, stretched down the street.
Beautiful examples of then-modern engineering, coupled with dedicated craftsmanship and architecture, created high-rises all along Broadway which reached heights of 12 stories and more. These buildings are filled with offices and manufacturing operations - and workers.
The streetcar (the Yellow Car randown Broadway) delivered eager shoppers and workers to Broadway daily and the streets were bustling from morning to night.
The Red Cars ran routes into the suburbs and throughout the entire Los Angeles area and its valleys. Broadway was an important part of the historic Route 66. In fact 7th & Broadway was the original terminus for Route 66, and an important corridor for the business and commercial activity that was integral to hat route in developing pathways through the west.
In more recent decades, the proliferation of the shopping mall, the cinemaplex, and the creation of a modern high-rise financial district in the Southeast portion of Downtown has led to Broadway's slow, steady decline. Today, the ground floor bustles with activity on most days, but there is more than a million square feet of vacant commercial space in the upper floors of Broadway's buildings, only two of the twelve theatres are open for regular entertainment programming, and there is a 15-20% vacancy rate on the ground floor, which has been on the rise for quite a while.
With commitments to rehabilitation and revitalization being made by property owners of commercial buildings and theaters, combined with the City's commitment to improve the streetscape, increase parking, revive the streetcar, and
adopt policy to support Broadway's needs, historic Broadway is poised for a rebound in function, feasibility and sustainability.